April 13, 2016
The Life and Times of Monarchos and Charles Nuckols III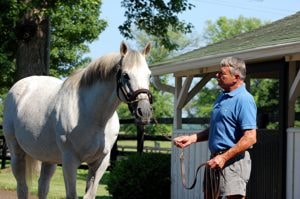 Nestled among the rolling hills of Woodford County in Central Kentucky are some of the most prestigious Thoroughbred farms in the world. Farms like Lane's End, Three Chimneys, Airdrie Stud and WinStar all call Woodford County home.
There are also many smaller farms that call Woodford County home, and as you drive the beautiful fence-lined back roads of the county you will see their horses grazing in pastures that stretch as far as the eye can see. As winter melts away and spring brings warmer weather, many of those pastures are filled with mares and foals running around and playing in the morning, and then napping in the afternoon before heading back to their stalls for the evening. It's the cycle of nature and it plays out in all of its glory throughout Central Kentucky every year.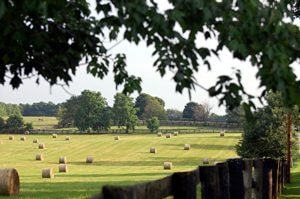 In some of the other pastures on those farms stand stallions, some well known; others not so much. For many who see them grazing in the fields, they are just beautiful horses; their names unknown. If you drive to the outskirts of the quiet town of Midway, Kentucky (pop. just under 1,700), visitors will see one of those stallions on one of those Kentucky farms. You see, for many who drive by Nuckols Farm and look in one of its front paddocks, all they see is a beautiful gray horse grazing on the grass. For others that drive by and see that beautiful gray horse, they know exactly who he is – he is Monarchos, the 2001 winner of the Kentucky Derby and still a favorite for many horse racing fans.
According to Charles Nuckols III, owner of the 1,150-acre Nuckols Farm, Monarchos, or "Mo" as he is nicknamed, is as beloved today as he was when he won the Kentucky Derby. At times, fans will pass by the farm and look at Monarchos through the fence along the road that fronts the farm and take photos. At other times some will stop in, announced or unannounced, to see their favorite horse. Sometimes, a tour bus will even stop by and people will get out to see him. For Nuckols, and Fred Braunm, the farm's stallion manager, it is all part of the fun and responsibility of having such a popular Kentucky Derby winner on the farm.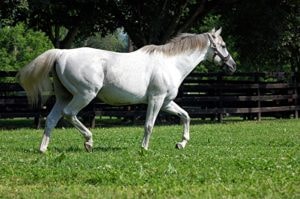 "Bus loads would come from tours through the Kentucky Horse Park, and then sometimes tours that are just driving around (would stop in), said Nuckols, or 'Nucks" as he is called by his friends. "They'll just pull in and 50 percent of the people or more on the bus do not even know who he is. They just see a nice gray horse out in the paddock. He probably has more photos taken of him than Secretariat. Even people just driving up and down our county road, they'll stop and take pictures and have no idea who he is. Just a pretty gray horse."
It is also a good thing, in some ways, that Monarchos is such an easy going horse, as he does not let all of the visitors bother him much.
"He's friendly, but does not necessarily come up to the fence for everyone of them, thank goodness," said Nuckols. "He keeps his space."
His fans also know that Monarchos loves peppermints, and the farm has had an endless supply of them since his arrival.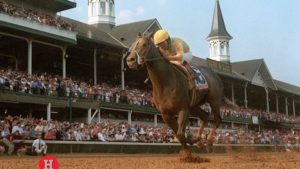 "He gets peppermints," said Nuckols. "As a matter of fact, we got a two-pound box last week from a lady in Mississippi that had driven through the farm and knew that he liked peppermints. Of course, we have a container down there (next to his stall) and you can give him one when he comes out. He likes those. And, it doesn't upset his stomach or anything like that. It's just a little special treat. So, he gets peppermints by the pounds all year."
Monarchos, who is by Maria's Mon-Regal Band, by Dixieland Band, was bred by Jim Squires and foaled in Kentucky on February 9, 1998. He burst onto the horse racing scene in 2001 with his first big win coming in the Florida Derby (G1) at Gulfstream Park in Hallandale, Florida. According to Nuckols, it was while Monarchos was at Gulfstream that he got the nickname "Mo." Who said it first is unknown; it probably was said by a groom or one of the folks that worked in the stable. But, the reason for it was quite understandable.
"When he was on the track at Gulfstream in Florida when he was a 2-year-old, only some of the help could pronounce Monarchos," said Nuckols. "(Others, including) racing fans, couldn't... So, that's pretty much how he got the nickname of "Mo." All because a lot of people could not pronounce Monarchos."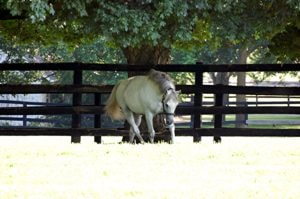 After his win in the Florida Derby, Monarchos finished second in the Wood Memorial Stakes (G2) at Aqueduct, and then headed to Churchill Downs for the Kentucky Derby (G1). There, on May 5, 2001 under jockey Jorge Chavez, Monarchos took the lead in the stretch and pulled away to win the race by 5-1/2 lengths. His winning time of 1:59.97 in the 1-1/4-mile race was the second fastest in history, just behind Secretariat's winning time of 1:59 2/5.
After the Derby, Monarchos went on to finish sixth in the Preakness Stakes (G1) and third in the Belmont Stakes (G1). A short time later he was injured and sat out the rest of the season. In January 2002, as a 4-year-old, he was injured during training and retired to Claiborne Farm in Paris, Kentucky, to begin his stud career.
Monarchos stood at Claiborne for an initial fee of $25,000 and had some good offspring, which included Informed Decision, who won the Breeders' Cup Filly and Mare Sprint (G1) in 2009, and Win Willy, who won the Rebel Stakes (G2) in 2009 and was looking for a possible run in the Kentucky Derby before an injury sidelined him.
Monarchos stood at Claiborne Farm for five years before his owner, John Oxley, owner of Fawn Leap Farm near Midway, decided to move him to Nuckols Farm in 2008.
"Mr. Oxley just wanted to get him a little closer to home," said Nuckols. "They don't stand stallions at Fawn Leap. So, he called me up one day and said, 'Nucks, would you mind going over to Claiborne to pick up Monarchos and bring him back and stand him.' I said, 'that'd be no problem.'" Upon his arrival, Monarchos was placed in the paddock just across from Nuckols' house and he's been there ever since.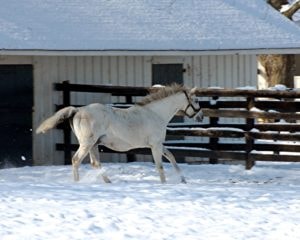 While life at Nuckols Farm for Monarchos has mostly gone smoothly over the last eight years, there were two colic episodes in 2012, which he recovered from in great fashion. He also had a colic-related problem in 2015, where an incision from one of his previous surgeries was irritating him. That was corrected with no problem, and today he is doing just fine.
One of the most interesting things that came out of all that, however, is that Mo now has a love for Guinness beer.
"It was about two years ago when he had a colic surgery," explains Nuckols. "I think Mr. Oxley heard about the Guinness beer through some other horse (owners) because of the hops and what not that's in there. He had a couple of mares on his farm over at Fawn Leap (Farm) that were on it that had colic problems (and) he said, 'why not give it a try.'
"So, we've been doing that. He (Oxley) sends a couple cases every month, and he (Monarchos) gets a bottle in the morning with breakfast, and he gets a bottle at night. And, believe me, he knows whether it's in there or not. … Not that 12 ounces is going to get a 1,200 pound stallion drunk, but he knows the flavor."
Word for Monarchos's love of Guinness beer spread and soon his fans started sending bottles and cases of it to the farm for him. "Every now and then, Fed Ex or somebody will pull up, and they have to have a special permit or something to ship it (liquor/beer), and he still gets that," said Nuckols. "But, every six months (or so), he'll get a case from somebody from outside the state. He never runs out, so, that's good."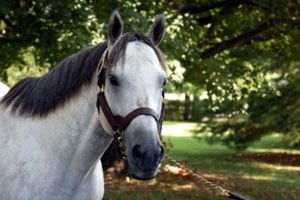 Monarchos was even sent a special surprise from the makers of Guinness beer. "We had a client in Dallas that knew about this (Monarchos's love of Guinness) and they had talked to the guy who's vice president of Guinness, and, on my counter over there, is a glass that he sent to Monarchos that has his name on it," said Nuckols. "It's right there (…on the trophy case). Needless to say, he (Monarchos) hasn't had any Guinness out of that, and me neither."
As another day draws to a close, Nuckols is sitting behind the desk in his comfortable home office, which is adorned with horse racing books, photographs and other horse racing memorabilia. Sitting there, he looks out the window just across the way and watches Monarchos grazing in his paddock. By the way he looks at the big gray horse, there is no question that he loves him and could just enjoy watching him graze and walk around his paddock for hours on end.
"(There) is his paddock (right outside my office window), and right now, there he is," said Nuckols with a smile as he watches Mo graze just outside his office window. "Every morning when the sun comes up, he's the first one (horse) I see, and every night when we turn the lights off, of course, he's in his stall by then, but he's the last horse I see at night for I don't know how many years."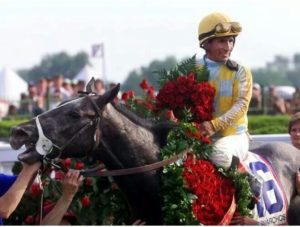 Well, it's been eight years since Monarchos first stepped onto Nuckols Farm and Nuckols got to watch him outside his office window. The two have come a long way together, through good times - such as when Nuckols happily gets to introduce him to visitors or give him his morning Guinness beer - and bad, which included the two colic surgeries for Monarchos and a recent shoulder replacement for Nuckols.
Still, the two have enjoyed eight wonderful years together, and, hopefully, there will be many more to come.
-- Rick Capone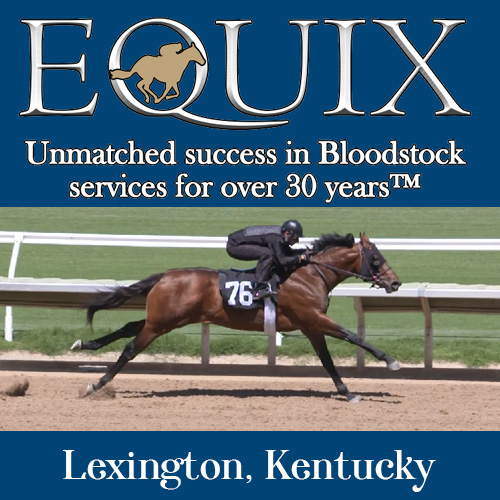 (859) 224-4488
EQUIX helps owners buy and breed Thoroughbreds that have a statistically higher chance to be successful racehorses. With a trained eye for body structure, soundness & conformation, EQUIX analysts combine this skilled horsemanship with more than 25 years of scientific research in equine biomechanics, motion, cardio efficiency & genetics to determine the racing performance potential of yearlings and two-year-olds. Visit our Website to learn more!
Visit Website