November 28, 2022
Pedigree Review - Bay Bridge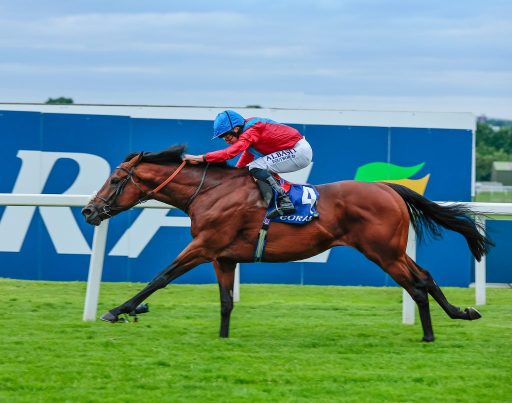 When the Group One Champion Stakes was about to be run on October 15, there was hardly a punter who would bet against Baaeed. It was considered Baaeed's race to lose, and lose he did. In fact, he came in fourth. The surprising winner was the long shot Bay Bridge, who became an instant millionaire. Many blamed the heavy going for Baaeed's loss, but Bay Bridge won the thrilling contest, and now it is indeed appropriate to ask, "who?"
Bay Bridge's sire is one of the leading third crop sires in Europe, New Bay, who, with the addition of Bay Bridge, now has three Group One winners from his first crop. A Juddmonte-bred standing at Ballylinch Stud in Kilkenny, Ireland for 37,500 euros in 2022, that stud fee is certain to rise in 2023. New Bay was no slouch at the track himself, having won the Prix du Jockey
Club-G1 and earned over a million and a half euros. He went to stud in 2017. New Bay's Group One winners from his first crop are Bay Bridge, of course, Saffron Beach, and Bayside Boy, and G3 winner Claymore. Even at this early stage, the pedigrees of all of these top racehorses indicate what New Bay needs in his broodmares to achieve success. Bay Bridge is out of a Multiplex mare; that sire may be little known, but he does bring a dose of Danzig through Danehill and matches the Sadler's Wells in New Bay with a dose of his own. Hayyona, the Multiplex mare, adds another cross to Somethingroyal through Habitat, a son of Sir Gaylord, to match what we get through New Bay via Gone West, but of more importance, we get matching appearances by Slightly Dangerous, 5 x 4, herself the Kentucky Broodmare of the Year in 1997, and by the marvelous turf influence Roberto.
New Bay has three sons of Northern Dancer in his pedigree: Colorado Dancer. The Minstrel, and Sadler's Wells, and Bay Bridge's dams' side complements this with Danzig, and that second dose of Sadler's Wells via his son, King of Kings, making the Sadler's Wells connection on the zig zag, through a daughter in New Bay and a son in Hayyona, which of course doubles the Fairy Bridge, Blue Hen descendant of Rough Shod II. So we have in Bay Bridge doubles of Secretariat's dam, Somethingroyal, Slightly Dangerous, and Fairy Bridge, not to mention the excellent Pretense mare Fall Aspen in New Bay; she was the dam of such as Timber Country, Bianconi, Hamas, Elle Seul and many others. So the mare power is great in this pedigree, as it is in the pedigrees of most top class runners.
New Bay's grandfather, the ill-fated Dubai Millennium (he died, at five, after only one year at stud, of grass sickness), did not live long enough to create a broodmare sire legacy, sadly, but his son and New Bay's father, Dubawi, is now twenty years old and has created his own legacy. It is interesting to note that Dubai Millennium's sire, Seeking the Gold, has left virtually no legacy, and his sire line, except for Dubai Millennium, is currently non-existent, despite Seeking the Gold's top class pedigree, as he is by Mr. Prospector out of a Buckpasser mare. The best broodmare sires for Dubawi are Singspiel (a grandson of Sadler's Wells), Dansili and his sire Danehill, Green Desert and Galileo. So it should come as no surprise that New Bay is already demonstrating a liking for more Northern Dancer, especially when coming from a second dose of Sadler's Wells and Danzig, and Bay Bridge exemplifies this, as Multiplex is a son of Danehill (by Danzig) and boasts that extra cross in his dams' side of Sadler's Wells, as mentioned. In fact, all of his best early winners demonstrate this fact. Saffron Beach (G1) offers more Northern Dancer, Bayside Boy offers Danzig, and Claymore (G3) offers the extra Sadler's Wells, just as Bay Bridge does. Though Hoyyana is the only Multiplex mare to be bred thus far to New Bay, what Hayyona brings to the pedigree marks New Bay as a promising sire, much like his great father Dubawi, who will create first class runners with a similar group of mares that Dubawi has demonstrated such success with. New Bay joins other promising sons of Dubawi, such as Makfi, Night of Thunder, and Poet's Voice, and ensures the continuation of Dubai Millennium's sire line, which provides the powerful dose of Mr. Prospector to inspire all of the Northern Dancer blood that dominates European breeding.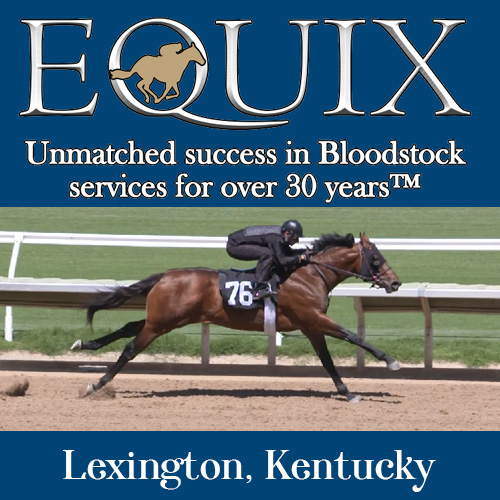 (859) 224-4488
EQUIX helps owners buy and breed Thoroughbreds that have a statistically higher chance to be successful racehorses. With a trained eye for body structure, soundness & conformation, EQUIX analysts combine this skilled horsemanship with more than 25 years of scientific research in equine biomechanics, motion, cardio efficiency & genetics to determine the racing performance potential of yearlings and two-year-olds. Visit our Website to learn more!
Visit Website