May 6, 2020
Charlatan and Nadal Make it Bob Baffert day in Hot Springs, Arkansas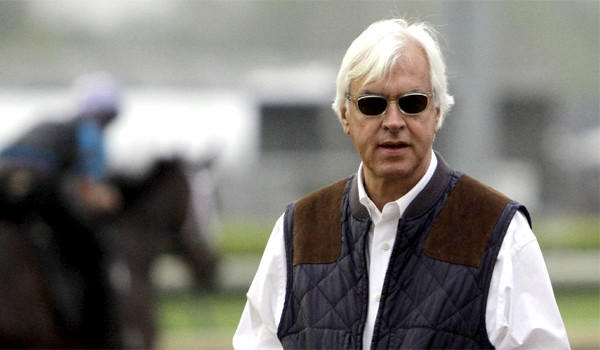 It was Bob Baffert day in Hot Springs, Arkansas, on the first Saturday in May, and he won everything but the key to the city. His brilliant colts, Charlatan and Nadal, both unbeaten, took both divisions of the Grade One Arkansas Derby, and his precocious filly Gamine remained unbeaten as well in allowance company.
Gamine is by Into Mischief: enough said. Nadal is bred on the proven Blame on A.P. Indy/Seattle Slew line cross, being out of a Pulpit mare. But Charlatan's pedigree is a bit more of a puzzle. Clearly he looked the part even as a yearling, when he sold for $700,000 at Keeneland September 2018, and his ownership reads like a who's who of big players.
By the grand old man, Speightstown (1998), who stands at Winstar in Versailles, Kentucky, for $70,000, his race record, pedigree and progeny speak for themselves. Being by Gone West, out of the Storm Cat mare Silken Cat, he is 3 x 4 Secretariat, via arguably the best daughters of Secretariat, Terlingua and Tamerett, with a second dam by Chieftain, echoing Secretariat's breeding, and a clever 5 x 5 dose of Tom Fool, via Buckpasser on the dams' side and Tim Tam on the sires', against representing the best progeny Tom Fool produced.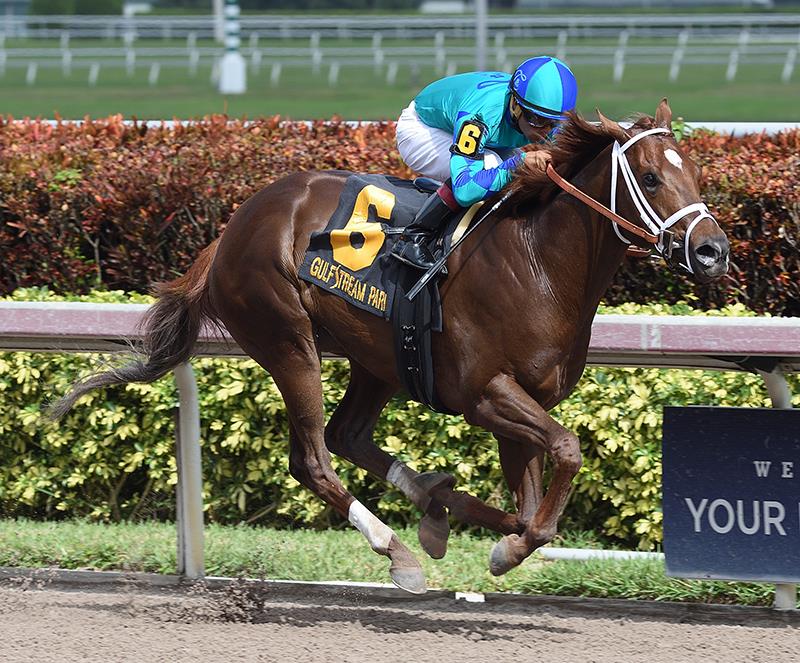 Speightstown loves mares that offer a Northern Dancer-line broodmare sire, such as El Prado, Sadler's Wells and Medaglia d'Oro, and also likes an extra dose of Mr. Prospector. But a list of his best produce doesn't feature any out of Quiet American mares, or any Fappiano-line mares, as Charlatan is. Charlatan's second dam, Court of Appeal, is by Deputy Minister, just as millionaire and Grade One winner by Speightstown, Golden Ticket's first dam, was by Deputy Minister, and the latter's credentials as a broodmare sire can't be questioned.
Charlatan's dam, Authenticity, sold in 2013 for $1,200,000 at Fasig-Tipton November, and Charlatan proves her value. She was a winner of $883,362, and finished third to Beholder and Songbird in the Breeders' Cup Distaff-G1, pretty distinguished company. Though the nick of Speightstown on Quiet American mares only offers us eight foals to examine, seven of those were winners, though none achieved at the level of Charlatan, so this cross has remained unpopular, until now. Quiet American is by Fappiano, of course, a son of Mr. Prospector, but note this with caution: Fappiano is considered his own sire line now, so although we have 3 x 4 inbreeding to Mr. P, the crosses Speightstown seems to prefer are from the non-Fappiano Mr. P sons and grandsons.
So where do we look, to understand the success of this cross in Charlatan? No further than Graded Stakes Winner and leading sire Munnings, easily Speightstown's best son at stud, who's having a stellar year with progeny winning, it seems, everything. The key here is Munning's dam, La Comete, by Holy Bull, who is related to Quiet American through the In Reality/Dr. Fager family.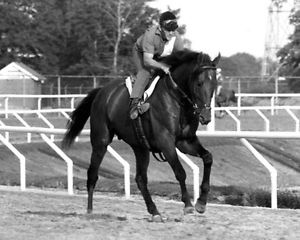 Charlatan is inbred to Dr. Fager 4 x 5 through Quiet American. Dr. Fager was by Rough 'n Tumble, out of the Better Self mare Aspidistra, and is closely related to In Reality (by Intentionally, out of My Dear Girl by Rough 'n Tumble), and to the grandsire of Holy Bull, Minnesota Mac, who was by Rough 'n Tumble out of Ta Wee, by Intentionally and out of Aspidistra. This is one tough, winning, gritty family that excels on dirt, and was famous, back in the day when this mattered, for carrying weight and winning in handicaps. Holy Bull also adds Mahmoud and more La Troienne, through The Axe II and Grey Dawn, which the two doses of Northern Dancer in Authenticity, the aforementioned Deputy Minister and Lyphard, offer through Natalma/Almahmoud. Charlatan even resembles Munnings, being a smallish, bright chestnut horse, and may mature into the muscleman that his sire is.
One more important element of Authenticity's pedigree must be pointed out. She has two great Princequillo mares, 5 x 6, via Cequillo and Quack's dam Quillon. This is an exact twin of Speightstown's two doses of a single Princequillo mare, 5 x 6, Secretariat's dam, Somethingroyal, plus the addition, via Chieftain's second dam, How, of another dose, making Charlatin 6 x 6 x 8 x 6 x 7 Princequillo mares. Princequillo may have been one of the greatest broodmare sires of all time, and this collection of his prized blood through so many mares, relatively close up in Charlatan's pedigree, must account for some of his dazzling speed.
If you looked Charlatan up yesterday, before the first division of the Arkansas Derby-G1 was run, his pedigree was given a D grade on a major five-generation pedigree site. Today, after winning that race, his pedigree has risen to B level. This only serves to indicate how bogus the analyses are in these computer-generated services. Charlatan had the same pedigree yesterday as he does today. One needs to look further than the sire and broodmare sire to determine potential, and the group that paid $700,000 for this stunning colt certainly did their due diligence.
-- Roberta Smoodin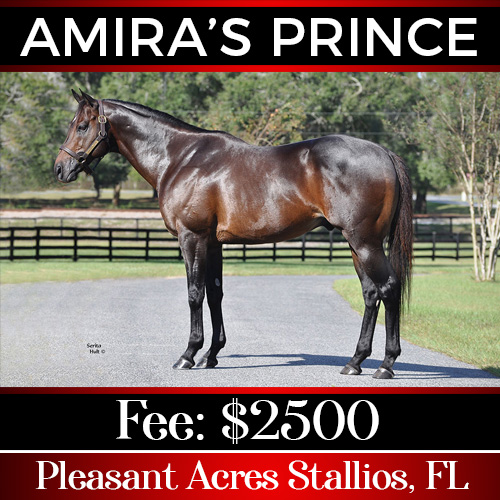 (352) 528-2885
Winner of the $400,000 Mervin H. Muniz Jr. H. (G2) at Fair Grounds & $150,000 Mac Diarmida S. (G2) at Gulfstream.G1. Placed in the $300,000 Gulfstream Park Turf H. (G1) behind G1 winners Lochte & Imagining, defeating G1 winner Boisterous & G2 winner Summer Front. Triple-digit Beyers. By the great Galileos champion juvenile son, Teofilo, multiple G1 Winner. On the board in 10 of 15 starts, with career earnings of $542,920. Visit our website!
Visit Website