April 21, 2020
The Connection Between G1 Apple Blossom Winner Ce Ce & 1993 Derby Winner Sea Hero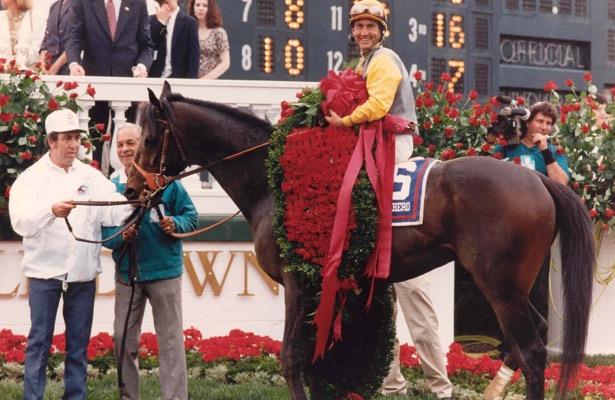 The April 18 Apple Blossom H.-G1 ended thrillingly in a photo finish between Ce Ce and Ollie's Candy, with Ce Ce winning by the shortest nose, while favored Serengeti Empress faded badly and finished out of the money. But Ce Ce demonstrated enough tenacity to make her the sport's newest Grade One winner.
By the late, brilliant miler Elusive Quality, she represents one of his most powerful nicks, as almost 50% of his best graded stakes winners are 4 x 4 Northern Dancer, as she is, just as a majority of his best offspring offer inbreeding to Raise a Native, through another dose of Mr. Prospector, Affirmed, Exclusive Native, Native Charger, Alydar, and others, as Ce Ce does, too.
No surprise, either, that Elusive Quality on Belong to Me mares (he is Ce Ce's broodmare sire), scores a 3.32 AEI (Average Earnings Index), as Belong to Me was by Danzig, by Northern Dancer, out of the Exclusive Native mare Belonging. It should be noted that Ce Ce is actually 4 x 4 x 5 Northern Dancer, with another dose on her dams' side through Magesterial.
Ce Ce's first two dams are also both Grade One winners, her dam Miss Houdini the winner of the Del Mar Debutante S. and her granddam Magical Maiden won the Hollywood Starlet S. Miss Houdini is also the dam of millionaire and MGSP Papa Clem, by Smart Strike, as well as the dam of MGSW Hot Springs (Uncle Mo). So this female side both runs and produces.
As a detour, we should examine the pedigree of 1993 Kentucky Derby-G1 winner Sea Hero, because Ce Ce is a close genetic relative of this wonderful Mellon-bred horse. Paul Mellon appreciated the great female families in the thoroughbred, and Sea Hero demonstrates this. He was inbred to La Troienne (1926) 5 x 5, an amazing feat for a horse foaled in 1990, through her daughter Businesslike (1939) on his sires' side (the dam of Busanda, who would produce Buckpasser), and through her daughter Big Hurry (1936), tail female, making La Troienne Sea Hero's fifth dam.
His third dam, Searching, was by War Admiral, just as Busanda was, making them very closely related, and making these doses of La Troienne even more powerful through these near-sisters. Sea Hero's dam, Glowing Tribute (1973), became a true Blue Hen herself. By Graustark, surely the source of Sea Hero's stamina, her dam, Admiring (1962), was by Hail to Reason, another source of stamina to be sure, as he was Seattle Slew's sire's broodmare sire. Sea Hero's sire was Polish Navy, by Danzig, just as Ce Ce's broodmare sire, Belong to Me, was by Danzig.
But back to Ce Ce. Elusive Quality's broodmare sire is Hero's Honor, by Northern Dancer, out of none other than Sea Hero's dam, Glowing Tribute. Echoes of Glowing Tribute and Sea Hero abound, though—this is just round one. Belong to Me's tail female line goes back to La Troienne, too, through La Troienne's daughter Big Hurry (1936), who was also Glowing Tribute's third dam, through Admiring and her dam, Searching.
Already mentioned was that extra dose of Northern Dancer through Magesterial, and Magesterial's dam was the Bold Lad mare Courting Days. She is in the fifth position in Ce Ce's pedigree, where most pedigrees mistakenly end. But by going back one more generation, we find that Courting Days was out of Admiring, by Searching, by La Troienne. Ce Ce therefore has triple inbreeding to this powerful family, making her 7 x 7 x 8 La Troienne, and 5 x 6 Admiring. This is a huge collection of such valuable old blood in a four-year-old filly.
My other favorite twentieth century Blue Hen must also be mentioned, as Ce is 5 x 6 x 6 Somethingroyal, through her sons Secretariat and Sir Gaylord in Elusive Quality, and through another dose of Sir Gaylord, through his grandson Lord Avie, who also adds a huge bump of Mahmoud, to CeCe's pedigree, complementing all of the Mahmoud in the doses of Northern Dancer, through his dam, Natalma.
Ce Ce's breeder and owner, Bo Hirsch, is to be congratulated on this stunning pedigree with such a profound influence of twentieth century girl power. Certainly, Ollie's Candy (Candy Ride) has a lovely pedigree as well, but for once, the photo finish was decided by the strength of pedigree and history rather than the whims of fashion.
-- Roberta Smoodin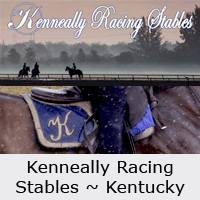 (502) 553-9893
Eddie's career spans decades and is marked with successes in both national and international racing circles. Kenneally Racing has been privileged to train some of the most impressive equine athletes in the game. We are proud of the team of assistant trainers, grooms and hotwalkers who are an integral part of our success. They share a wealth of experience and a deep regard for the care of our equine athletes. Learn more at our website. Thank you!
Visit Website