February 8, 2019
Thoroughbred People: Jockey Austin Solis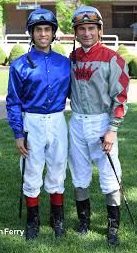 Name: Austin Solis  
Occupation: Jockey
Location: Monrovia, California
What are your earliest memories of big races or/and horses?
My first memories of horse racing starts the day I was born. I grew up into horse racing. My dad is Hall of Fame rider Alex Solis. I was lucky to watch him race across the world winning big races.
How did you get involved in horse racing and how did you get started as a rider?
I got into horse racing because as soon as I was born I knew I wanted to be the best jockey ever.
Which have been the best or/and your favorite horses that you have ridden in your careers so far?
My favorite horse I've ridden is a wonderful fully named Hollywood Hills. I've won four out of five on her. She's not just an amazing race horse, she's an amazing horse. So smart and kind.
Which horses you have ridden have had the most heart or/and personality/character?
I'd say Hollywood Hills.
What would you pick as some of the best/most gratifying days in your riding career?
Any day I can win some races and come home safe is a great day.
What would you like to do professionally when you retire from riding?
I would like to be either a trainer or a professional golfer.
If you were in charge of horse racing, what things would you want to fix and what measures would you take to improve the sport/industry?
I'd regulate more on what vitamins, supplements and drugs are used in horses. To ensure that the best horses are winning every race because of their raw talent.
Just For Fun
Favorite Music/Artists: I love electronic music but my favorite bands of all time would be Jack Johnson, Rebelution and thrice.
Favorite Books/Movies/Writers/Actors: I love comedies so my favorite comedians would be Jim Carrey and Adam Sandler.
Favorite Type of Food/Restaurant: I love all food so amazing that's supposed to be amazing.
Tell us something that you are good at, or something that you have done in your life, that might surprise some people: I'm actually a pretty good golfer.
Who Would Play You in the Movie of Your Life? 
Myself. Acting wood be pretty awesome.
You are having a fantasy dinner party of up to six guests. You can invite anyone in the world, who you would either like to meet or already know, from the past or the present, famous or not. Who would you invite and why?
First I'd invite God because God is great and why we are here. Then my favorite athletes of all time. My dad, Tiger Woods and Patrick Roy. And last but not least, my favorite actors Jim Carrey and Adam Sandler.
If you are a "Thoroughbred Person", work in our great sport of Thoroughbred Horse Racing and would like to do our Q & A please click Here  - Thank You!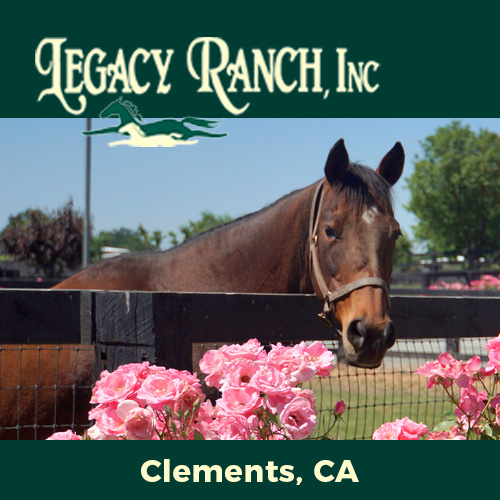 (209) 759 3428
Covering a vast 145 acres, Legacy Ranch is nestled in the small town of Clements outside the Sierra foothills. Beautifully manicured, the Ranch is not only pleasing to the eye but is also efficient for the breeding & training of the competitive race horse. In addition to our training track we offer large pastures that are irrigated during all seasons for a lush green nutritious environment and we have private grass paddocks available too.
Visit Website