January 29, 2019
Thoroughbred People: Breeder Roberta Smoodin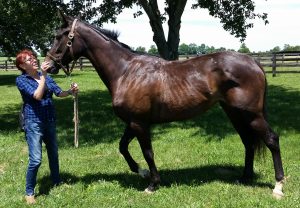 Name: Roberta Smoodin  
Occupation: Breeder
Location: Wilds of Northern New Mexico ---
What are your earliest memories of big races or/and horses?
The first horse I fell in love with was Secretariat, of course. His personality, his playing to the camera, and of course, his Belmont. I remember Silky Sullivan from early childhood, because like my beloved Zenyatta much later, he came from behind to win when he seemed utterly without hope.
How did you get involved in horse racing and how did you get started as in the breeding business?
My father and his sister, my aunt, loved going to the races at Santa Anita and Hollywood Park, and I went with them from the time I was five, when I learned to read a racing form and to handicap. My first bet, placed by my aunt for me, was a winner. I was hooked. Later in life, when I moved from Los Angeles to New Mexico, I owned my first horses, and my life was changed forever. I started breeding racing quarter horse mares, but my first love was thoroughbreds, so I began studying their pedigrees and learning about them. I've always loved the foals best--getting to see what comes out from the seed you had planted over eleven months before is a thrill, and they are without doubt the most beautiful creatures on earth.
What do you look for in weanlings and yearlings. Also which conformation faults can you live with and which do you have trouble getting past?
If you are a breeder, you know that foals and weanlings change tremendously. A pigeon toed foal's chest will expand as he grows and runs, and that fault may correct itself. A bad left front is a problem--it's the leg that takes all the pressure on the turns, so you want the left front as correct as possible. I like every body type, from the short backed sprinters to the long backed, long-legged route horses. There are so many types--to appreciate only one seems ridiculous. Of course, if you're selling, you want size, scope, a huge hip, a great shoulder, and a big walk. Everyone wants good, flat, big knees. I don't like long pasterns, and I like to see a stout cannon bone, and a well-developed gaskin.
Which have been the best horses that you have bred so far?
The first thoroughbred I bred became a stakes winner--Dramatic Jazz was his name. I thought, wow, this is easy. I've designed the matings for numerous client mares, and have turned out some big winners. That's been the majority of my "breeding"--analyzing pedigrees and selecting stallions for clients' mares.
Which of your horses have had the most heart/personality/character?
I've owned three mares that stood out in terms of personality--a 7/8 thoroughbred, registered quarter horse named Country Mama, whose quirks and intelligence and good looks made me love her forever. A nearly white thoroughbred mare named Valleta M., whom i fell in love with when i first saw her go through the Keeneland Sales ring--she was huge and gorgeous, with a lovely, feminine head and big, deer eyes. I bred a handsome Pure Prize colt out of her who was a winner. And most recently, Stormy Saratoga, my Stormy Atlantic mare, who from the time I bought her at Keeneland was more like a cocker spaniel than a thoroughbred. She'd come running from anywhere when I called her, loved peppermints, would give horse hugs and put her whole head on my chest, and knew how to zip and unzip hoodies. And she is beautiful--bay, with socks and a blaze face, and a big white spot on her belly. I adore her.
What would you pick as some of the best/most gratifying days in your breeding ventures?
Every time I pull a live foal out of a mare--you are so in the moment, tuned in, aware of every nuance of the process. And then you get the beautiful foal, remove the amniotic sac, and you're the first one to look into its eyes--so profoundly moving. Then it gets up on those rickety, drunken legs for the first time, and if you're lucky, you live through getting it to nurse without mama kicking you in the head.
If you were in charge of horse racing, what things would you want to fix and what measures would you take to improve the sport/industry?
There must be an end, or at least a slowing down, of catastrophic injury to horses. Every human athlete makes his or her own choice to participate and perhaps endanger himself or herself. The horses have no such choice. More thorough study of catastrophic injuries in horses must be carried out. I'm also distressed by the middle and low end of the thoroughbred market, and how depressed this has become, while the top of the market is strong and rich, and pulls averages and medians at sales up to hallucinatory levels which don't reflect the reality of the market for the smaller breeder.
Five For Fun
Favorite Music/Artists : I'm old--I listen to Bob Dylan, the Band, David Bowie, Lou Reed, Talking Heads in my car.
Favorite Books/Movies/Writers/Actors: Favorite books--since I used to be an English professor, there are a vast array. Remembrance of Things Past by Proust; One Hundred Years of Solitude by Garcia-Marquez; The Dead, by Joyce; All the Pretty Horses by McCarthy. I've also been a film critic, and love movies by Scorsese, Tarantino, Ridley Scott, Villenueve, Inarittu...the list could go on and on. Lately, I'm in love with Tom Hardy and Michael Fassbender, but who isn't?
Favorite Type of Food/Restaurant: I love good Italian food, particularly in Italy--I've been most happy eating in Venice. But I am a hungry person, and eat all types of food, and enjoy my own cooking.
Who Would Play You in the Movie of Your Life? 
Heaven forbid! It would be a horror movie! I would like Michael Fassbender to play me, just so I could hang out with him and count his teeth.
You are having a fantasy dinner party of up to six guests. You can invite anyone in the world, who you would either like to meet or already know, from the past or the present, famous or not. Who would you invite and why?
First of all, do I have to do the cooking? If so, no such party will happen. Bob Dylan, Mikhail Baryshnikov, James Joyce, Bobby Frankel, Cormac McCarthy, and my father would be perfect.
If you are a "Thoroughbred Person", work in our great sport of Thoroughbred Horse Racing and would like to do our Q & A please click Here - Thank You!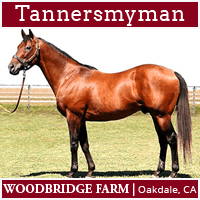 (209) 576 0629
Tannersmyman is ranked as a top California sire and as an all-weather sire. He has high average earnings per runner and statistics of over 50% winners from starters and over 50% winners from first time starters. Tannersmyman is currently ranked in the top 15 California two year old sires! Visit Tannersmyman's webpage here for more information and contact details - Thank You!
Visit Website