January 29, 2019
Thoroughbred People: Exercise Rider Kody Kellenberger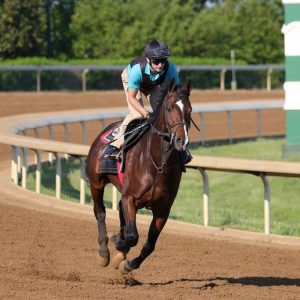 Name: Kody Kellenberger   
Occupation: Exercise Rider
Location: Lexington, KY
What are your earliest memories of big races or/and horses?
Watching California Chrome and American Pharoah.
How did you get involved in horse racing?
I started working at RimRoc farm as a groom in Lexington KY moving from Upstate NY where I worked with show horses. Mostly reiners and then hunter jumpers. My first riding job was at Kenny Mcpeek's Magdalena farm breaking babies.
Which have been the best or/and your favorite horses that you have ridden so far?
That's hard to pick! I really enjoy difficult/challenging horses two of my favorites from this past year are Markitoff because he was a pain in the morning but would run his heart out in the afternoons and at a very competitve level. Another was Somelikeithotbrown who finished 3rd in the breeders cup Juvenile turf.
Which horses you have ridden have had the biggest characters/personalities?
The Ones that come to mind first for me are Markitoff, Shiraz, Sky Chief and Shangroyal.
Which have been the toughest horses you have ridden?
Markitoff, Skychief, Mom Genes
If you were in charge of horse racing, what things would you want to fix and what measures would you take to improve the sport/industry?
I think everyone should start from the bottom working their way up. Start as a hot walker and prove yourself to move up.
Five For Fun
Favorite Music/Artists: Waylon Jennings, Willie Nelson, Highwaymen, AC/DC
Favorite Books/Movies/Writers/Actors: The Frontiersman By Allen Ekert
Favorite Type of Food/Restaurant: Good NY Pizza
Tell us something that you are good at, or something that you have done in your life, that might surprise some people: I used to take flying lessons and wanted to be a pilot.
You are having a fantasy dinner party of up to six guests. Who would you invite and why?
Waylon Jennings and the entire cast of the Highwaymen. I'm a big fan of country music especially the outlaw country period of the 70s.
If you are a "Thoroughbred Person", are involved in our great sport of Thoroughbred Horse Racing and would like to do our Q & A please click Here  - Thank You!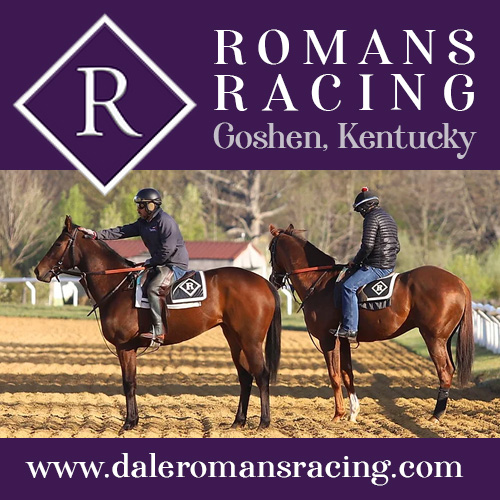 2598392822
Featuring an outdoor track and the area's largest indoor track, Dale Romans' Liberty Lane Training Center is the ideal addition to your horse's training. It offers an opportunity for your horse to take a deep breath, drop his head and get the reprieve he needs from time to time. It is also an ideal venue for injury rehab. Acres of pasture dot the landscape of the facility, located in Goshen, Kentucky. Visit our website for full information!
Visit Website