January 16, 2016
The Interviews: Fairgrounds Leading Trainer, Michael Stidham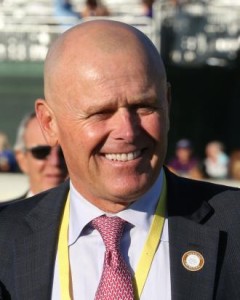 Since he started out in the 1980s, much travelled trainer Michael Stidham's horses have won over 1600 races and $48 million dollars in prize money. A recent winner of the Trainer's title at Fairgrounds racetrack, Michael took time out of his busy schedule to talk to Thoroughbred People about his career to date.
TBP: Michael, how did you get involved in horse racing?
MS: My father was a jockey in New Jersey so I was born into it really. My brother Steve Stidham was the track photographer at Hollywood Park for about fifteen years. As a child I loved the action of the races. The Hall of Fame rider Bill Hartack was a family friend and he also had a big influence on me. My father advised me against being a trainer as he felt it wasn't a very secure business to be in. He said to go to college, and if I wanted to be around the racetrack he suggested I become a vet. As a jockey on the lower levels he had fought the ups and downs of the game and I guess he just didn't want me to go through what he had been through. I decided to try the college route with a view to becoming a vet, but after a couple of years it was clear that it wasn't for me, I really wanted to become a trainer.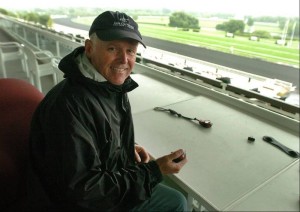 TBP: Tell us about how your early training career.
MS: I worked my way up through the ranks to become an assistant trainer to my father when we were based at Calder in Florida. Then he sent me with about eight of our lower level horses to Florida Downs, which is now Tampa Bay Downs. I was there for a winter meet and I learned a lot. Then in 1980 I got the opportunity to train privately for Harold Goodman at Louisiana Downs. We did pretty well and won a couple of nice stakes races, then Mr Goodman asked me to go on to Southern California with some of his horses. I spent the next ten years in Southern California. While I was training there I went over to France to look for a stallion prospect for Mr Goodman and we found a horse by Nijinsky called Manzotti. He was a big beautiful horse with an amazing stride. I told Mr Goodman we had to have him and we gave $150,000, which as it turned out was a great deal.
We initially ran him on the turf over here a couple of times and he didn't run that well, so we switched him to dirt and that's when he got really good. He was a very tough, strong horse to be around and tough to handle sometimes, but he went on to win several Graded Stakes for us, and later sired Two Altazano who became my first Grade 1 winner.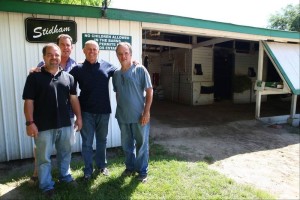 Then towards the end of the '80s things got a bit lean for me and I was having to rethink my future. I was down to about six horses, so I decided to go up to Northern California, I had some solid relationships with Southern California trainers and I figured they might send me some horses who weren't fitting down south and that might revitalize things for me.
Sure enough, within a short period of time up there I was up to around twenty horses and I was back on track, but I didn't have any really good horses and I wasn't really getting anywhere. Then Mr Goodman asked me to go to Sam Houston in Texas to train for him. Texas racing was taking off at  the time, but after I'd been down there a year or so Mr Goodman sadly passed away suddenly. The family, who I was close with, were very good to me and allowed me to continue with my contract and also take on outside clients, so I managed to slowly build the operation up through the '90s and things started to get better for me.
I knew I had to get on to a good circuit where they had good purses and good turf racing year round as well, so I decided on Arlington Park in Chicago in the summer and New Orleans in the winter, stopping off at Keeneland in the spring and the fall.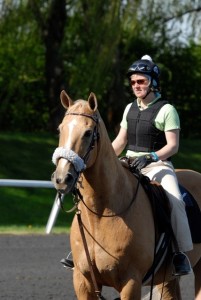 TBP: Who are your assistant trainers and what sort of client base do you have?
MS: My main assistant is Hilary Pridham, and I have Mitch Dennison at Laurel and Nick Canani at Hawthorne. I have a lot of owners and a very diverse client base. My biggest clients are probably Ike and Dawn Thrash, who I won a Grade 1 stake at Keeneland for with Her Emmynency. I now also train for clients like Marty Nixon, John Adger, Twin Creeks Racing Stable, Cobra Farm, Pin Oak, West Point Thoroughbreds and Dare To Dream Stable, and recently Mr Duchussois, who owns Arlington Park, became a client.
TBP: What is your favourite part of training racehorses?
MS: I really like developing the young horses. It's like a puzzle to solve when you first bring them in and start working with them, analyzing their pedigrees, watching them train, watching their stride, watching them work with the other two year olds and figuring out what distance and surface they are likely to want.
I try to adapt my training style to the individual horse depending on their characteristics and habits. I watch how they respond to different types of training, identify what works best with  them and make an individual program for each.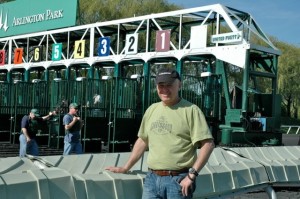 TBP: What do you think of synthetic tracks?
MS: We train all summer long at Arlington on the polytrack. On a day to day wear and tear basis it is easier on them and you just don't see the same kind of catastrophic breakdowns on the synthetic tracks that you see on dirt tracks. If I can avoid issues like chips in knees and ankles obviously that's good news. They talk about temperature problems with the synthetics in California, but it gets hot in a Chicago summer and we didn't have any problems with the polytrack there.
Here at Keeneland I work most of my horses on the polytrack. For me it's been safer to train on. I was 100% behind the synthetics all along. I went to see Mr Duchussois to let him know how good I felt about the polytrack at Keeneland before they put it in at Arlington. The Arlington dirt track was a dangerous track when it rained and I'm very glad that they put the synthetic surface in there.
TBP: How did you feel about Keeneland taking out their synthetic track and going back to dirt?
MS: I was disappointed when Keeneland took their synthetic track out. It unfortunately came down to a corporate mentality as there was a feeling that they wouldn't get the Breeders Cup unless they did that, but it wasn't in the best interest of the horses.
TBP: Do you see other types of injuries occurring on the synthetic tracks?
On the synthetics we see some high suspensory strains for example, some hind end issues, but the difference is that these are manageable injuries that horses can recover from, unlike many of the terminal injuries that occur on dirt tracks. It is definitely harder to keep horses sound on dirt tracks than synthetic tracks or turf.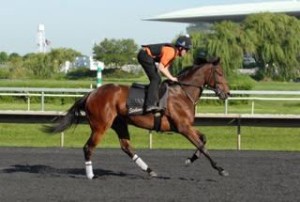 TBP: You recently pulled off a great training performance when you won a Grade 1 at Keeneland with Miss Emmynency who you brought back from a long layoff, what was the issue that had put her out of action?
MS: Miss Emmynency came down with colitis when we were preparing her for the Breeders Cup Juvenile Fillies in 2014. We got her to the clinic in time and luckily we saved her. We gave her four months off at the farm and she recovered well. As a two year old she had showed us a lot of talent, she was very quick. We took her to Del Mar where she broke her maiden and was then second beaten just a neck in the Grade 1 Del Mar Debutante. Then we went to Santa Anita where she won the listed Surfer Girl Stakes on the turf very impressively. After that is when she came down with the colitis.
TBP: Where are you on the medication debate?
MS: I feel strongly that things needed to be reigned in, things were out of control with so many guys abusing things like clenbuterol, anabolic steroids and regularly injecting horses right on top of races. With our racing schedule however I am against banning Lasix. We're racing year round here and I think if we can help these horses with some issues with things like that and anti-inflammatories then why not?
TBP: Tell us about some of your other good horses. Istanford?
MS: Istanford was a very quirky filly, highly strung and a little difficult to deal with in the mornings, quirky in the paddock too, but a lot of talent, very athletic. She won the Grade 2 San Clemente at Del Mar in 2014 and we also won against the boys in the Arlington Classic. She was similar to Two Altazanno in that if she made the lead in her races and got her way she was very hard to get by.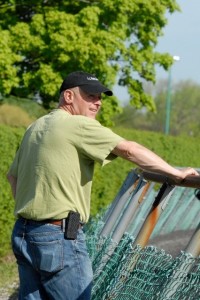 TBP: How about Upper Line?
MS: Upper Line is a great story. I trained for Stonerside for Bob and Janice McNair. John Adger who was their racing manager and has known me since my days with Harold Goodman, called me when they were selling their operation and horses to Darley. John said that there were some yearlings that Darley were weeding out but that were from well bred families, and he asked me if I wanted to go see them.
We bought a package of three for around $40,000. Upper Line was one of them. She wasn't perfect confirmation wise, but we thought she was the best of the three. Hilary my assistant and I both stayed in for 25% and Upper Line went on to win $700,000 on the racetrack.  Arthur Hancock became interested and bought in and because of that we bred her to War Front, just before War Front got white hot as a stallion. We sold her in foal to him and she brought $1,750,000 at the sale, so that worked out alright!
TBP: What was she like as an individual?
MS: She was a laid back filly, she never really jumped out at you in her work and was something of an overachiever, she had a lot of heart. It was only later in her career when we stretched her out to a mile and a half and she won well that we realized that she could have been even better over a distance of ground. 1.04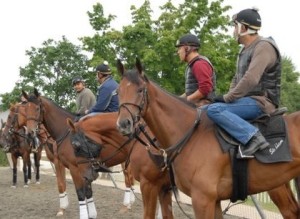 TBP: Would you like to see more long distance races?
MS: Yes, I think there is too much of this nonsense where some trainers just want to run their horses over shorter and shorter distances and seem to be scared to send their horses further than a mile. Some of the mindsets seem quite ridiculous, for some it seems to be just about sending them and just speed, speed, speed. That's not my style, I love to train horses to run long, especially on the turf, I really enjoy that.
TBP: What other horses are memorable for you?
MS: Wilcox Inn is another great story. We were at the Fasig Tipton sale and Hilary and Marette Farrell said you have to come and look at this Harlan's Holiday colt. He was very small but he was very athletic and had this amazing walk. He would have been about 15.1 hands high when we bought him and would be no more than 15.2 or 15.3 when he was fully grown. We went for him for $50,000 and I said we either have a racehorse or a shetland pony here. He turned out to be an amazing horse.
On his first start at Arlington he ran against Animal Kingdom, and the move he made in the race from way back to beat the future Kentucky Derby winner was amazing. He was from a good family for turf and distance, Cetewayo is in the family, and he won over a million dollars.
We had him set up for a stallion career but unfortunately he died in a paddock accident just a few months ago. He was bred to 30 mares though, which is something. He was a real character, he'd always be nipping at you and wanted to be tough about things, but not in a mean way.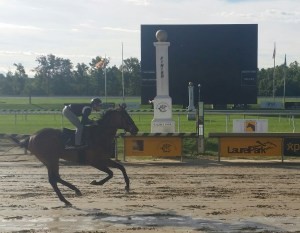 Gran Estreno was an amazing horse originally from Argentina, we claimed him for $25,000, He was a massive, powerful horse, maybe 16.3 hands high, huge shoulder and hip. When we were thinking about claiming him Marty Nixon (Feels Like Thunder Stable) called me up and asked me if I knew why they were dropping him in for $25,000. We figured he had some major problems and that they were trying to lose him, as he had been claimed for $25,000 from Dick Dutrow and was running him right back for the same money. I made a call to a guy who knew the assistant to Dutrow, he said there was nothing wrong with the horse, he just hadn't panned out as expected and they didn't want him anymore.
He won by eight lengths the day we claimed him. He went on to earn over $400,000 for us and won three Graded Stakes including the Washington Park Handicap twice.
Sutra was a filly who was probably not one of the most talented horses I trained but we were in the right place at the right time with her. She had done well as a two year old, and the owner Jack Hodge persuaded me to go to Belmont for the Grade 1 Frizette. I remember looking at the track and thinking that it was so deep that day, even for the "Big Sandy", and wondering how Sutra was going to handle it, but she ran a huge race, the rider found a gap on the rail and she ran on and won, she clearly loved the track.
Another horse we claimed for $20,000 was a Texas Bred called Sandburr, also owned by Marty Nixon (Feels Like Thunder Stable). We won several stakes with him and he won over $470,000. He was a really kind, gentle horse who just went out there and laid his body down for you every time. We raced him till he was nine and he wasn't as good as he was, he came back down the claiming ladder and was beaten for $25,000.
I called Marty and said listen, we're at a point right now where for this horse to be competitive we are going to have to drop him down to $10,000. He'll probably get claimed and then go to run at some low level track for $4000 and who knows where he might end up, so we need to do the right thing for this horse and retire him, which we did. He is retired with Kathy Volkman on her farm in Texas and they still send me pictures which you can see on my website, he's very happy.
TBP: Have you had success rehoming your horses when they finish racing?
MS: We have a good track record of rehoming retired racehorses, Hilary Pridham is very good at it and has a lot of connections with hunter jumper people. I don't think the majority of the people in the business, owners, breeders, trainers and even jockeys, step in and do enough to find homes for these horses when they retire. It should be made mandatory for everyone involved in the industry to play some small part in this matter.
TBP: What issues would you like to see resolved in racing?
MS: One thing that gets me is the corporate mentality racetracks who put a big front side show on, but don't look after situations and often deplorable backside conditions for the employees and the barns. These people need to be held accountable for what's going on on the backstretch, just like when the State of Louisiana stepped in at the Fairgrounds and told Churchill Downs that if they didn't fix up their backside and renovate the turf course they would pull their slot licence. Churchill then went in and fixed it of course.
In Texas it's a shame what's happening, it's shocking to me that Texas racing didn't take off and do better than it did, I think a lot of it is down to a political mess which shouldn't have happened.
I like what's happening at Laurel. I met with Tim Ritvo and I think that at the end of the day even though some people are upset with the changes Stronach made at Gulfstream and is making at Laurel, they are providing options to get people's attention and make it an all round entertainment situation. They are doing things in a corporate way but they are promoting racing along the way.
This is a business I truly love and I love horses and training. It has been very good to me and I am always looking to give back to to help the sport and the horses.
-----------------------------------------------------------------------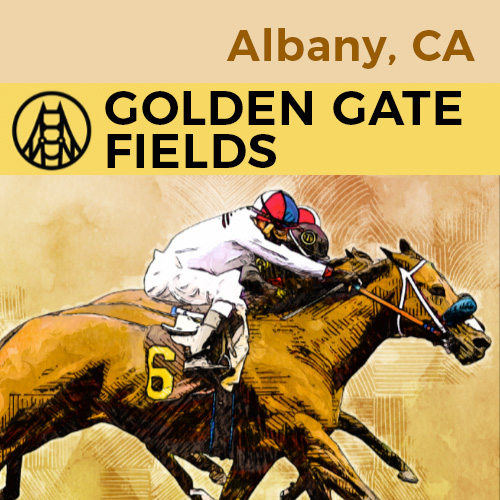 (510) 559 -7300
Welcome to Golden Gate Fields. Since 1941 weve called Berkeley, CA our home and for more than 75 years weve been entertaining the entire Bay Area with exciting horse racing, spectacular views of the San Francisco Bay, and some of the best people watching in the world. Visit our website for more information about our race dates and events. Our turnstiles have welcomed millions of fans and we hope to see you at the races!
Visit Website