January 27, 2020
Mucho Macho Man's Son Mucho Gusto Wins The Lasix Free Pegasus Gold Cup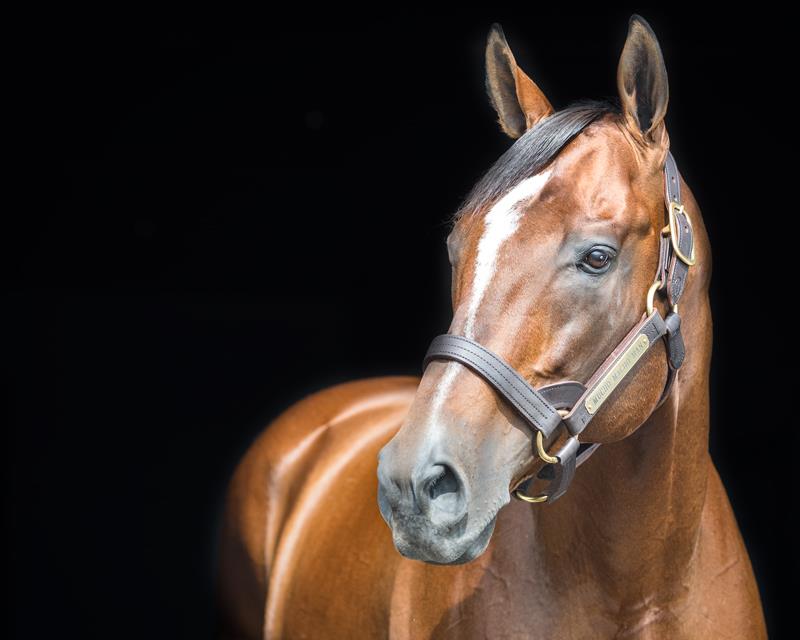 If you don't think the horse racing gods' favorite child is Bob Baffert, you'd better think again. Here's what it took for his trainee, Mucho Gusto (by Mucho Macho Man), to win the Lasix free Pegasus World Cup-G1. Baffert calling an audible and deciding to send his horse to Florida, rather than wait for the San Pasqual S. at Santa Anita. Irad Ortiz mysteriously taking himself off of Spun to Run, and getting onto Mucho Gusto.
Prohibitive favorite Omaha Beach manifesting filling in his right hind ankle, resulting in Richard Mandella's stable of one at Gulfstream scratching. Then Spun to Run also scratched due to a skin issue which spread to his legs: did Ortiz have an inkling that all wasn't right with the second favorite? Ortiz and Mucho Gusto got the perfect trip, giving the chestnut son of Mucho Macho Man free rein over a sub-par field, to come out with the million-dollar-plus winner's share. And Baffert didn't have to leave his Southern California home—he sent assistant Jimmy Barnes to Florida with the horse. Nice work if you can get it.
The other beneficiary of this near-miracle is Adena Springs Farm, in Paris, Kentucky, where Mucho Macho Man stands for $10,000, and is, as of this day, the Leading Sire of 2020, a spot he will likely retain until the Saudi World Cup is run. Mucho Macho Man's name didn't appear at all on the 2019 Leading Sires list, which covered the 150 leading studs in the country. It's safe to say that this is the only time Mucho Macho Man has led all other stallions, including Into Mischief, Curlin, Tapit, et al.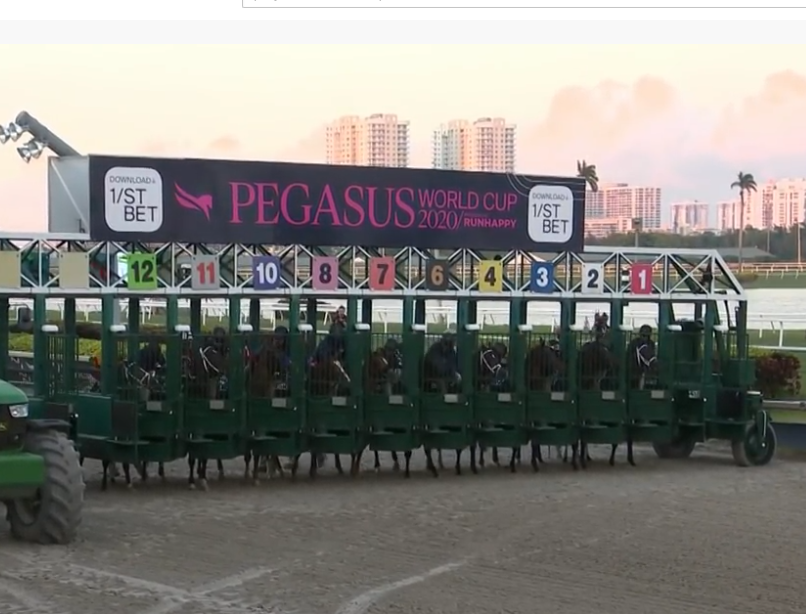 This is not meant to be disrespectful to Mucho Gusto, who was a $625,000 purchase at the Fasig-Tipton Midlantic Sale of Two-Year-Olds in Training in 2018, a high price for an offspring of Mucho Macho Man (especially considering he fetched only $14,000 as a short yearling at the 2017 Keeneland January Sale). He clearly demonstrated ability and precocity, which he has turned into Grade One success as a new four-year-old. Now Baffert is considering sending him to Dubai for the World Cup there. The colt's current earnings are $2,579,800; even hitting the board on World Cup day might place him squarely in the running for 2020 Horse of the Year, and it's only January, with the 2019 Eclipse Awards not a week old. Remember, his father, Mucho Macho Man, won the Dubai World Cup-G1 at five, after finishing second to Fort Larned in the race at four. This family just gets better with age.
Even a quick look at Mucho Gusto's pedigree, however, reveals the strong foundation this horse's ability rests on. His great-grandfather is one of my favorite horses of all time, the running machine named Holy Bull. He had the ultimate tough guy pedigree, incorporating his great-grandsire, Rough 'n Tumble, and the speedy filly Ta Wee by Intentionally, making Holy Bull's sire Great Above a close genetic relative of In Reality, and the double dose of Mahmoud, through son and daughter on the zig zag, through his dam, Sharon Brown. I visited him many times, and bred to him twice; he was a huge, stout, big-boned hunk of gray horseflesh, unforgettable. Once, visiting him when he was out in his paddock, I longed for him to come to me, but only had a cough drop in my coat pocket. I took it out and made the paper it was wrapped in rustle, and the Great One came over to me, thinking I had a peppermint. I offered him the cough drop. He sniffed it, and gave me a look of ultimate contempt and disdain. I cherish that moment.
The most interesting aspect of Mucho Gusto's pedigree is its balance: its sires' side and dams' side are equally weighted by doses of Blushing Groom, Nijinsky II and Mr. Prospector. Blushing Groom appears 4 x 4 in this pedigree, through two of the most powerful daughters of this great sire, Primal Force (the dam of both Macho Uno and Awesome Again), and Mariah's Storm, by Blushing Groom's son Rahy, and the dam of the Iron Horse, Giant's Causeway. Nijinsky II, the perfect complement to Blushing Groom in so many pedigrees, appears 5 x 5, through his daughter Street Ballet on the sires' side, and through his son Green Dancer on the dams'. Nijinsky II also works exceptionally well with the Storm Cat line, as he and Storm Bird are closely related, but this is even more true with Giant's Causeway, with his Blushing Groom dams' side.
Mr. Prospector appears 5 x 5 on the sires' side, through his daughter Prime Prospect and his son Two Punch, and in the fourth position on the dams' side, through Seeking the Gold. It must also be noted that diverse strains of La Troienne appear through Buckpasser, Glorious Song, Bimelech, and The Axe II, not to mention an array of ways back to Man o'War, and his younger, full sibling My Play.
What appeared to have been a perfect alignment of the stars by the horse racing gods may actually have been the maturing of a horse whose time has come. And whose trainer, Bob Baffert, may be the best ever at coaxing talent from a horse, and placing him in the right spot to demonstrate that talent. Can't wait to see Mucho Gusto in Dubai!
-- Roberta Smoodin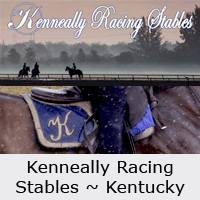 (502) 553-9893
Eddie's career spans decades and is marked with successes in both national and international racing circles. Kenneally Racing has been privileged to train some of the most impressive equine athletes in the game. We are proud of the team of assistant trainers, grooms and hotwalkers who are an integral part of our success. They share a wealth of experience and a deep regard for the care of our equine athletes. Learn more at our website. Thank you!
Visit Website