May 3, 2020
Long Weekend: A Few of My Favorite Things
The most exciting race of Saturday, April 25 (not that there were a lot of contenders) was the Bachelor S. at Oaklawn, with Long Weekend and Echo Town battling all the way down the stretch. Long Weekend got his nose down on the wire, but it was one of those races that neither horse deserved to lose. Favorite Eight Rings remains the mystery of the century, following his brilliant two-year-old career with an utterly lackluster 2020 campaign, suggesting something out of "Invasion of the Body Snatchers."
Trained by Tom Amoss and ridden by Joe Talamo, Long Weekend has a pedigree that features many of my favorite pedigree tricks; kudos to Woodford Thoroughbreds for breeding this colt. He furthers Harlan's Holiday's legacy, being by Majestic Perfection, who now stands in Uruguay, and is out of the Wavering Monarch mare Act So Noble. It's the Buckpasser in Wavering Monarch that cements the pedigree, connecting with the Buckpasser on the dams' side, via A.P. Indy, El Gran Senor, and Unbridled, plus the multiple doses of Buckpasser's lauded female ancestor, La Troienne, through Seattle Slew's dam, My Charmer. As usual, the magic of the pedigree is beyond the reach of the usual five ancestors pedigree offered online.
As well, Long Weekend features 7 x 6 x 7 x 6 inbreeding to Secretariat's and Sir Gaylord's great dam, Somethingroyal—these multiple appearances by La Troienne and Somethingroyal seem to mark many outstanding race horses, though they hail from the previous century. There is, as well, multiple ways back to Raise a Native, through Affirmed, Unbridled, and Alydar, and of course inbreeding to Northern Dancer via Storm Cat and El Gran Senor.
Long Weekend's dam is the stakes placed mare Liza Too, a daughter of Olmodavor, whose own wealth of blood should make him a successful broodmare sire. Add to that a second dam, Seeking the Silver, by Grindstone, for that exacta of Fappiano on a granddaughter of Sir Gaylord (Somethingroyal), and it's no wonder that this is the immediate family of G1 winning Paulassilverlining (Ghostzapper).
But it's the third dam of Long Weekend who provides the most fascinating, and undoubtedly critical, inbreeding in this pedigree. Long Weekend's third dam is Apache Pines, by Pancho Villa (1982). Pancho Villa was by Secretariat, out of Crimson Saint, whose father, Crimson Satan, was one of those rare horses who had a genetic condition rendering him unable to sweat (anhidrosis). He had to be kept in an air-conditioned stall to preserve his life.
Does Pancho Villa's pedigree seem all too familiar? It should. He is a full brother to the glorious Secretariat mare Terlingua, the dam of Storm Cat. So we have these full siblings 5 x 4 in this pedigree, on the coveted zig zag, getting the benefits of the male genetics on top, and the female on the bottom side of this pedigree. This rare occurrence embodies the brilliance of this pedigree design. We need to keep our eyes on Long Weekend, because his pedigree suggests he will go on to greater victories.
-- Roberta Smoodin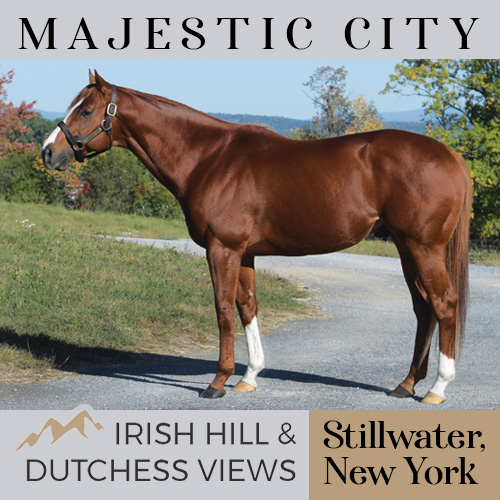 (518) 541-3280
Runner-Up in Two Grade 1 Events at 2. Undefeated in first three starts including the Hollywood Juvenile-G3. Dirt /Turf /Synthetic - Durable Sprinter Miler at distances of 4 1/2 fur. to 1 1/16 mi. wire-to-wire. City Zip's top son at stud by Class Performance Index (CPI). Won Graded stakes from 2 to 6 and finished in the top four in 13 stakes (11 Graded), competing at 10 tracks. Visit our website to learn more about Majestic City!
Visit Website