June 9, 2020
English 2000 Guineas Winner Kameko and the Kitten's Joy Nicking Pattern
With Kameko's win in the 2020 Group One 2000 Guineas at Newmarket in course record time, over much favored and previously unbeaten Pinatubo, one must say that the most under-appreciated sire in the world is Kitten's Joy.
The leading turf sire in 2020 and perennially in the United States, Kitten's Joy's 2019 yearling sales average was a paltry $87,000, with his stud fee set at $75,000. One must wonder at the utter tenacity of Ramsay Farm to stand a turf sire in Kentucky, and at an out-of-the-way farm, and applaud Ramsay's shifting of the stallion to Hill 'n' Dale Farm in the Bluegrass a couple of years ago, trying to make the stallion more viable and visible. Hill 'n' Dale turned Curlin's career around similarly.
It remains clear that European bloodstock agents come to the Keeneland September Yearling Sale to cherry pick the best Kitten's Joys of the crop, with David Redvers being the savant in this endeavor, having bought the previously mentioned Kameko for $90,000, and one of Kitten's Joy's top two runners, Roaring Lion, for $160,000. With dirt racing's sullying of the sport with traumatic injuries and fatalities, one might hope that turf racing in North America will see a renaissance, but until then, it seems unlikely that Kitten's Joy will get the respect he deserves.
To discover the magic in Kameko's pedigree, it helps to examine the pedigrees of Kitten's Joy's top two runners, Hawkbill and Roaring Lion, both Champions, multiple Group One winners, multi-millionaires, and, of course, European runners. What Kitten's Joy likes best in his mates is inbreeding to Northern Dancer and to Roberto (or other Hail to Reason lines). Hawkbill, standing the 2020 season at Darley Japan, reflects this, being 4 x 6 x 5 Northern Dancer, through sons Sadler's Wells and Storm Bird, and daughter Fanfreluche, and 4 x 5 Roberto, with another dose of Hail to Reason added to the mix through Halo's daughter Glorious Song. Hawkbill also boasts 5 x 5 doses of Prince John, a son of Princequillo, balanced by two doses, 6 x 5, of Secretariat's and Sir Gaylord's dam, the Princequillo mare Somethingroyal.
Roaring Lion, Kitten's Joy's second leading earner, has a less stellar but similar pedigree, being 4 x 5 Northern Dancer through Sadler's Wells and Dixieland Band, and 5 x 6 x 6 Hail to Reason, through Roberto, Halo and Bold Reasoning's dam, Reason to Earn. We find similar inbreeding to Princequillo, through Somethingroyal, of course, but also through My Charmer's sire, Poker, a grandson of Princequillo, making Roaring Lion 6 x 6.
Kameko, however, wins the Northern Dancer derby, as he is 4 x 5 x 5 x 5 x 6, through Sadler's Wells, Fanfreluche, Danzig, Be My Guest, El Gran Senor and Nijinsky II. It should be noted that Fanfreluche's son, L'Enjoleur, and El Gran Senor are closely related, being reiterations of the Northern Dancer/Buckpasser cross, with Danehill representing yet another version of that cross, through Danzig and Razyana. The echoes of multiple doses of Hail to Reason also occur, as Kameko is 6 x 5 x 7 Hail to Reason, through Bold Reason, Roberto and Caerleon's dam, Foreseer, who also brings a welcome addition of Princequillo, to add to Prince John's appearances 5 x 6.
The most rapid perusal of Kitten's Joy's leading earners reveals that the extra crosses of Northern Dancer, Roberto and Hail to Reason appear in the majority of these stakes winners. As well, this stallion's affinity for Storm Cat line mares was revealed thanks to the Ramsays themselves, who had one other stallion standing at their farm during Kitten's Joy's tenure there, Catienus, a son of Storm Cat. They bred daughters of Catienus to Kitten's Joy with good results, adding that dose of Somethingroyal/Princequillo.
One can expect David Redvers to be visiting the Keeneland September Yearling Sale again this year. His knack for picking out the best Kitten's Joy offspring should be applauded, as Kameko seems sure to score more victories in this young racing year. John Ferguson plucked Hawkbill from that same sale for Darley Stud, though Hawkbill was a rare Kitten's Joy, fetching $350,000. Perhaps with Kameko's record time win in the 2000 Guineas-G1, this will become Kitten's Joy's best year at the yearling sales.
-- Roberta Smoodin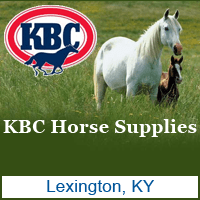 (859) 253 9688
Welcome to KBC International... Supplies for all your equine needs! KBC carries over 4000 horse-related items and horse supplies - available on the web 24/7. If you don't see it, we'll find it! We're adding more daily, so come visit often! Chances are we have it or can get it for you-just let us know. Call our customer service number: 800-928-7777, or email us at [email protected]. Visit our website to learn more about our products and services!
Visit Website