April 28, 2018
The Interviews: Kentucky Derby Winning Trainer Graham Motion
Kentucky Derby, Dubai World Cup and multiple stakes winning trainer Graham Motion moved to the US from his native England in 1980. Since starting to train in 1993 Graham's horses have won more than 2000 races and over $100 million in purses. Graham talked to Thoroughbred People about the Fair Hill training center where he is based, Derby winner Animal Kingdom, the legendary Better Talk Now and his training career so far.
TBP: Tell us how you got involved in racing.
GM: My parents had a thoroughbred farm, Herringswell Stud in Newmarket, England, so I was always involved with racehorses. Growing up I actually wanted to be a jockey rather than a trainer. When I was sixteen my family moved to the US and after I graduated high school here I went to France to work on a thoroughbred stud farm. I did some training of the two year olds over there and I really enjoyed it. Then I went to work for Jonathan Sheppard in Pennsylvania.
TBP: One of the horses you were closely involved with when you worked for Jonathan Sheppard was the legendary Eclipse Award champion steeplechase horse, Flatterer. What was he like as an individual?
GM: I looked after Flatterer and traveled with him to his races, including a trip back to my native England when he ran second in the Champion Hurdle at the Cheltenham Festival. He was a pleasure to be around, he was a kind horse and an easy ride. He wasn't particularly impressive to look at, you wouldn't walk into the yard and think "wow who's that", he was just a plain looking horse.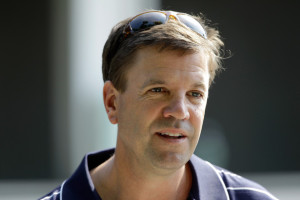 TBP: How did you break into training here in the US?
GM: After working for Jonathan Sheppard I went to France again to work for the trainer Jonathan Pease. When I was over in France I became friends with Steve Moyer, who was from the US and was assistant trainer to Maurice Zilber at the time. Steve was going to start training in Maryland, so when he did I came back and helped Steve out. After a while working at Steve's I got a call from a trainer called Bernie Bond. He was looking for an assistant to work with him at his Pimlico barn. He offered me the job and I worked for him for three years. It was a very different experience to working with Jonathan Sheppard, who trained a lot of older long distance turf horses and jumpers, away from the racetrack on the farm. Bernie's speciality was speedy two year olds and precocious early types.
When Bernie retired his owners decided to stay with me and I started training the horses myself. One of the conditions of me taking over the string was that we moved the barn from Pimlico to Laurel, which was fine with me because Laurel was a nicer track. Back then the training crew was pretty much just myself, my wife and my present assistant who has been with me since then, Adrian Rolls.
TBP: How did things go at Laurel?

GM: I wanted to try and expand the operation. One horse that really helped me out and put me on the map was a horse Bernie had previously trained, a pretty serious stakes horse called Gala Spinaway. He had been off with an injury. After he came back I won several stakes races with him, and that helped me to attract more owners and horses.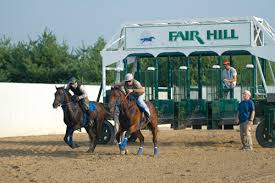 TBP: How did you get involved with Fair Hill?
GM: We started stabling some horses at Delaware Park in the summer as the stable expanded. I had a good friend called Bruce Jackson who had worked with me at Jonathan Sheppard's. Bruce was training at Fair Hill. He encouraged me to take some stalls there, so we took a group of horses over. When I started training it was really not fashionable to train at a training center. The perception was that you had to train at the racetrack if you were going to be successful. Now it has become much more acceptable. Michael Dickinson helped with his achievements in general and with Da Hoss of course who he trained here at Fair Hill. We have also had two Kentucky Derby winners come from here, Animal Kingdom for me and Barbaro for Michael Matz, so that helped people understand it more.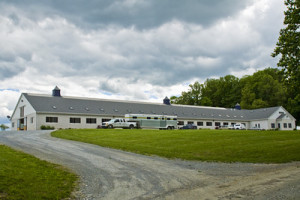 TBP: How many horses are trained at Fair Hill and what are your facilities?
GM: We have two barns now with over a 100 horses. Fair Hill in total probably has six hundred horses and twelve to fourteen trainers. We have two oval tracks, a 7 furlong Tapeta track and a mile dirt track, plus thousands of acres to do what we want with. We also have a turf course with an uphill incline that we can breeze over which is very useful. We have plenty of space and a lot of my horses are turned out in a paddock each day before they train which is great for them.
TBP: How would you feel if you had to go back to training at the racetrack?
GM: I don't think I could do it to tell the truth. I've been fairly spoilt here.
TBP: How many horses do you have in training at Fair Hill and elsewhere?
GM: At the moment I have about 150 horses in total, probably a third of which are two year olds. I have a diverse group of clients, many of whom have been with me for a long time.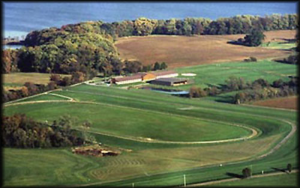 TBP: What do you enjoy the most about training racehorses?
GM: I think one of the aspects I enjoy the most is pointing a horse to a long term target and pulling it off. And the day to day hands on training of course. I got into this because I love horses.
TBP: What concerns you about the sport today?
GM: The whole issue of medication, and the lack of a national policy, is a huge problem that I am really tired of. We really need to solve it and I am concerned that we never will. It wouldn't bother me at all if Lasix was banned tomorrow. We lean on medication as a crutch and it takes away from the training. If you don't have Lasix you just adapt and train a horse differently. That's the nuts and bolts of it.
TBP: What is your opinion on the removal of synthetic tracks from Santa Anita, Del Mar and Keeneland?
GM: It's very disappointing, I was devastated when they took the synthetic track out at Keeneland, I couldn't believe it. I think it's a real shame because the synthetics were not put in the right way in the first place and were not taken care of correctly after they were put in. It was very badly handled and I think a lot of tracks cut some corners. We have never had a problem with our Tapeta track here at Fair Hill and that's because we listen to Michael Dickinson when he advises us how to maintain it.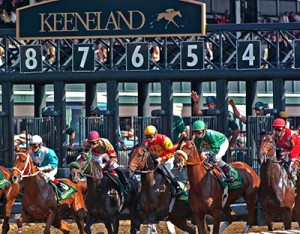 It is well documented and proven that the synthetic tracks are significantly safer than dirt tracks for horses and it is sad that the industry does not want to pursue synthetics. I would have thought safety for horses and riders would be the most important priority for racing quite frankly.
TBP: What other issues concern you?
GM: I think we generally have too much racing, which puts a strain on racetracks to fill races. By watering down the product by having so much racing we shoot ourselves in the foot.
TBP: Do you have many options for horses that retire from racing?
GM: Yes, we have a lot of success with rehoming horses. Being located here in Maryland helps. To me the retirement homes should be a last resort as they are often very underfunded. Creating awareness of what retired racehorses can go on to do after they finish racing is a big part of what we are trying to do with Icabad Crane. He ran in the Preakness for us and is now a successful eventer. There is information on him on my website herringswellstables.com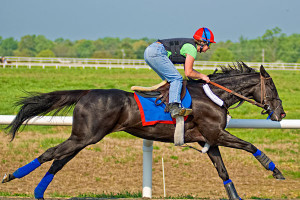 TBP: Tell us about the prolific winning gelding Better Talk Now who you had an incredible amount of success with. He raced for you until he was ten and really seemed to accelerate your career.
GM: Better Talk now was a useful two year old, but we gelded him after his three year old year because he was a real handful. He still is even now, he is very cantankerous and a difficult horse to ride. Part of what made him was the rapport that Ramon Dominguez built up with him. He won just about every Grade 1 Stake on the Turf in New York and won me my first Breeders Cup race when he won the Breeders Cup Turf. He is turned out here at Fair Hill with Gala Spinaway. It's really nice to have him around and see him every day.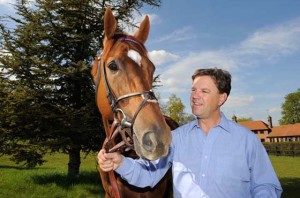 TBP: How about Animal Kingdom who you won the Kentucky Derby with? How did you come to train him?
GM: Wayne Catalano had Animal Kingdom as a two year old. Barry Irwin gave the horse a break and then asked me to train him and the other Team Valor horses. He came to me in Florida in the January and they were pretty high on him. I trained a good horse at the time called Pluck who had won the Breeders Cup Juvenile Turf with Todd Pletcher and I started working him with Animal Kingdom at Palm Meadows. Pluck was working well enough, but when Animal Kingdom was doing everything so easily alongside him, that's when he got my attention.
We won with him at Turfway on the Polytrack. We decided we would go for the Kentucky Derby, if he worked well on the dirt. We had a very wet spring so he ended up doing most of his work on the Polytrack at Keeneland. We finally got a dirt work into him at Churchill where he went unbelievably well. He went on to win the Derby of course under Johnny Velasquez.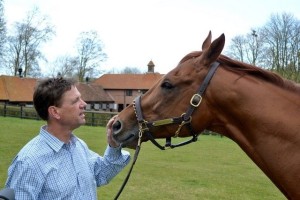 I think if he had broken better he could have won the Preakness too.  We were thinking about the Dubai World Cup for him as a 4 year old, but then he picked up an injury and had to have some extended time off.  Barry said we should go for the race the next year as a five year old, which I thought was incredibly optimistic at the time. But Animal Kingdom came back really well. Everything went to plan with his training and he was in great condition going into the World Cup the following year. He won it of course. He was a tricky horse to ride, quite quirky with a bit of streak in him, but overall he was a kind horse, big and strong with a great demeanor. He never got shaken up and always handled things really well.
TBP: Which other horses have been some of your favorites?
GM: Film Maker was very special to me. She was a very kind and generous mare. It was pretty brutal getting beaten by Ouija Board in the Breeders Cup Filly and Mare Turf three times. She was a bit of a hard luck filly being around at the same time as Ouija Board, but she was still very successful and won over two million dollars.  
Shared Account was an absolute pleasure to be around. She was around 40-1 when she won the Breeders Cup Filly and Mare Turf in 2010, beating Henry Cecil's filly Midday by a neck. It was quite amazing for me to find myself beating Henry Cecil, who I had idolized growing up as a kid in England.
Ring Weekend was a great horse, he won the Grade 1 Kilroe mile at Santa Anita but he had problems with a nasty foot abscess afterwards. He was always a really good work horse. I thought he was the best two year old I had in his two year old year.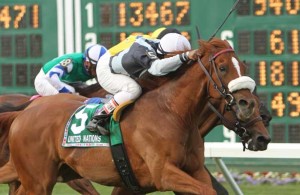 Main Sequence won four Grade 1s and it was very disappointing that he injured a tendon and had to be retired. It makes you wonder how good he was when we see how well Flintshire, who Main Sequence beat in the Breeders Cup Turf, did afterwards. He was a very easy horse to be around. Before he was gelded he could get a little wound up, a little bit nervous but he was generally kind and a good work horse.
TBP: What things can we do to improve the racing product and experience?
GM: We don't seem to help ourselves in many areas that could be easily fixed. Aside from lowering the quality of racing by having too much of it, it is ridiculous in this day and age that we don't even have high definition TV feeds at most tracks. When you see pictures of horses in high definition the beauty and movement of the horses and the racing is captured more and it is naturally a more interesting and exciting spectacle.  
It's frustrating to me that we don't have more long distance races. New York has made a big, positive move in creating more long distance races which is great. They are fun to watch, create variety for fans and options for horses.
TBP: Can you ever see yourself doing what John Gosden did and leaving the USA to train in your native England?
GM: Well I would never say never if an amazing situation came up, but I think it would be very hard for me to leave my operation here in the US. I have had good success here in America and I have had great opportunities that wouldn't have been available to me in the UK, like winning the Kentucky Derby of course! I am very happy here.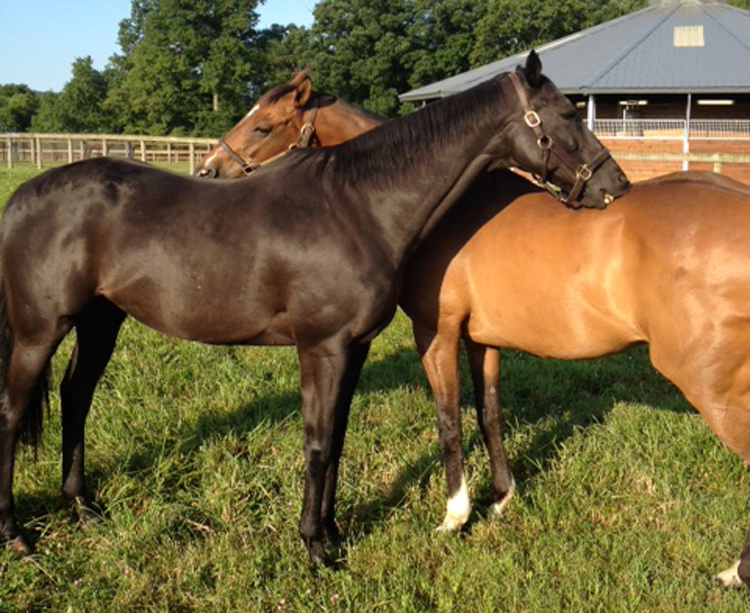 Gala Spinaway and Better Talk Now Scratching each other's backs in their retirement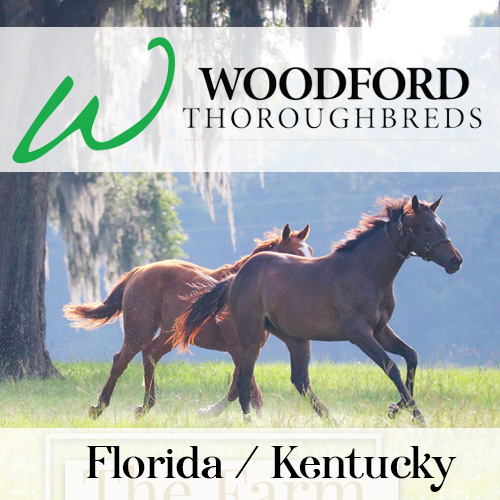 (352) 812 0811
Our track record of success says it all! Send your yearling to be readied for the track over the same breaking and training grounds as Beholder, Cairo Prince and Stopchargingmaria. Patience, confidence building and repetition, this is the Woodford way. Feel comfortable knowing we can prepare a two-year-old for the training sales, or to go directly to their trainer. Woodford was the 7th leading two-year-old in training consignor in 2016.
Visit Website